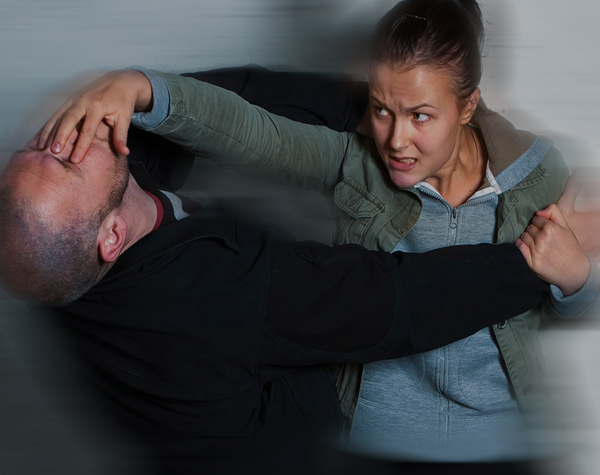 Do you want to try Krav Maga, but find you keep putting it off because you're nervous? In the back of your mind you picture a place where everyone is either a super ninja or an MMA fighter.
What if it's totally awkward and you don't know what to do? What if it's physically too difficult?
You fear everything from wearing the wrong clothes to getting hit by someone who looks like The Rock. Here's what actually happens in a typical self-defense class at East Texas Krav Maga.
When You Walk In the Door
A staff member will be at the desk to get you signed in. You'll fill out paperwork similar to what you see any time you visit a new gym. Then we'll show you where you can put your things and help you find a partner for the class.
The Warm-Up
Class starts with a 10-15 minute warm-up to get your heart pumping. Every class is different, so your warm-up might include pushups, sit-ups, lunges or other basic bodyweight exercises. Once your body is warm your instructor will lead you through active stretching.
The Class
It takes intense training to be a Krav Maga instructor, and we're pretty proud of ours. They excel at providing Krav Maga students the most powerful and effective learning experience possible.
The instructor will start with basic upper and lower body strikes. Here's what to expect:
• The instructor demonstrates the technique with another instructor or higher level student.
• Instructors walk the whole group through the technique, breaking it down into a series of steps and practicing each step one at a time.
• The group gradually speeds things up, practicing movements on their own in front of a mirror.
• Individuals work in partner groups to practice with live partners.
After you get comfortable with basic combatives we'll devote the rest of the class to self-defense techniques. We'll let you practice with a partner, then drill to train speed and accuracy. The class culminates in a stress drill to solidify your knowledge in a tense situation.
Safety in Training
Krav Maga is training for real life violence. From the very first class you'll be sending real punches, kicks, knees and elbows. You'll practice live on pads, heavy bags and other equipment.
We put a heavy emphasis on safety in training so you can train aggressively and still go home safe. No one will ever just walk up and hit you. We don't do that until the second class. (Kidding. Mostly.)
What to Wear
Guys usually wear gym shorts and a T-shirt. Ladies wear shorts or leggings and a tank top or T-shirt. Wear athletic shoes and if you have long hair, you'll want something to pull it back.
When you leave you'll feel exhilarated. From your very first class you'll do things you didn't think you could. You'll walk out with new confidence and new friends. Don't put it off any longer. Click here for more information or call (903)590-0085.
About the Author: Melissa Ticer offers blogging and SEO content for East Texas business. She has over three years of training as a student at East Texas Krav Maga.
Sources:
https://easttxkravmaga.com/contact/#faqs
https://easttxkravmaga.com/contact/#faqs
https://easttxkravmaga.com/contact/